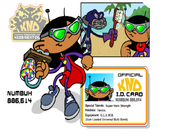 Numbah 886,614 was annoyed by the evil adults in her town. So she decided to join the Kids Next Door. She has gone through some tough battles, but she never backed down.
Personalty
Edit
Numbah 886,614 loves to fun and relax, but she often doesn't get to do that because of alll the missions. But when it comes to evil adults, she knows when to fight.
"Take this adult scumbs!"
"We need backup, FAST!"
"I'm not backing down just yet."
Friends/Allies
Edit
Anyone one can add me if they consider me a friend!
Numbah 1
Numbah 2
Numbah 3
Numbah 4
Numbah 5
Rivals/Enemies
Edit
Most Adults